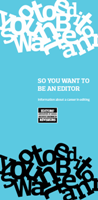 What do editors do?
What makes a good editor? Where and how do editors work? How much do they earn? What kind of training do you need to be an editor? All that, and some answers to questions you didn't even think of are in the
Editors' Association of Canada
's booklet
So You Want to Be an Editor: Information about a Career in Editing
.